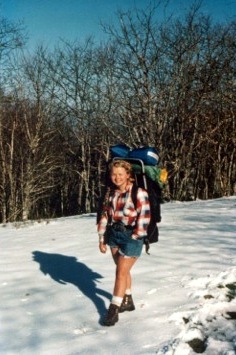 Hi! I'm Anna and this is my very first travel blog entry. I hope to share my adventures with you through photos, videos, and stories!
I have always wanted to travel since I was little. My mother always talked about her travels overseas in her twenties which really inspired me. For years she nannied in Norway in the wintertime, then backpacked Europe in the summer. I have always admired her for this. She told me her only regret in life was not traveling more. This really stood out me as she had traveled extensively.
At first I used to take "summer trips" for 2 or 3 months. I would go to New York City, Philadelphia, Maine, and Colorado. Winter of 2010 I had just gotten out of a long relationship, and I decided it was time to take a big trip overseas! I started researching and planning. I read all kinds of travel blogs, forums-everything I could find. I decided Europe was where I wanted to go. I found myself excited about finding all the right gear. The lightest backpack, waterbottle, drybags, and what clothes to bring. To this day I still love the anticipation of planning a trip! My friend Chris decided to join me for the first three weeks of my trip and then I would be traveling alone for the next three months of my trip. I had such an amazing trip! I went to London, Ireland, Rome, Greece, Spain, Sweden, Norway, and Croatia!!
I caught the travel bug that summer. I decided I enjoyed traveling so much that I didn't want to stop. I also felt like when I was in Europe that I hadn't spent enough time exploring the United States. When I returned I threw myself into traveling in the states. I have not stopped traveling and I love it! I will keep traveling as long as it makes me happy.
I hope my blog and photos inspire you. I travel on a very small budget and I can show you how travel can be done on any budget.  Please feel free to say hi! Ask me any travel questions you may have and if you have any feedback about my site I'd love to hear it!