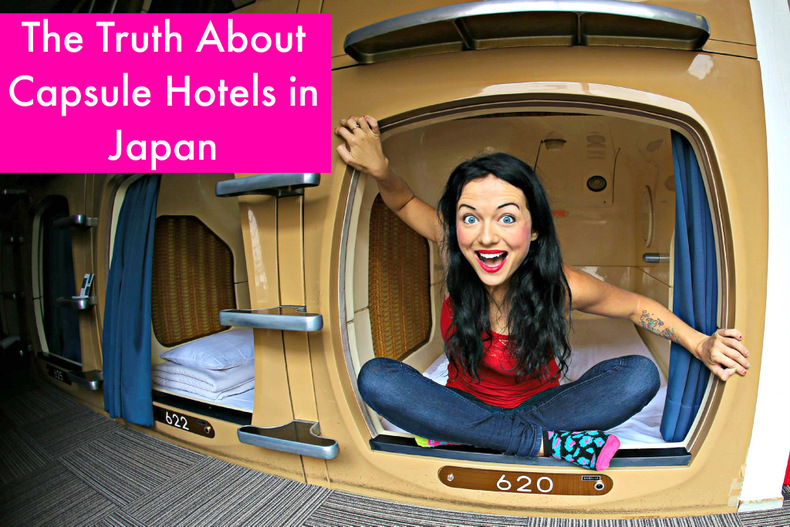 I was greatly curious about capsule hotels. I remember seeing them on the Travel Channel many years ago and feeling fascinated. As a kid I loved to make "forts" in my closet with pillows, blankets, my stuffed animals and books to read. I love cozy places. When I arrived in Tokyo,Japan I started looking for a capsule hotel but I was shocked to find most of them did not accept women or people with tattoos. I even read a Tripadvisor review from a guy who was kicked out of a capsule hotel for having tattoos at 2:00am! Japanese people associate tattoos with the Japanese mafia, the Yakuza. As for women not being allowed, it is for safety issues. I was delighted to finally find Capsule Inn Kinshicho located in central Tokyo-in Sumida. They had positive TripAdvisor reviews and it was an affordable $25.00 per night.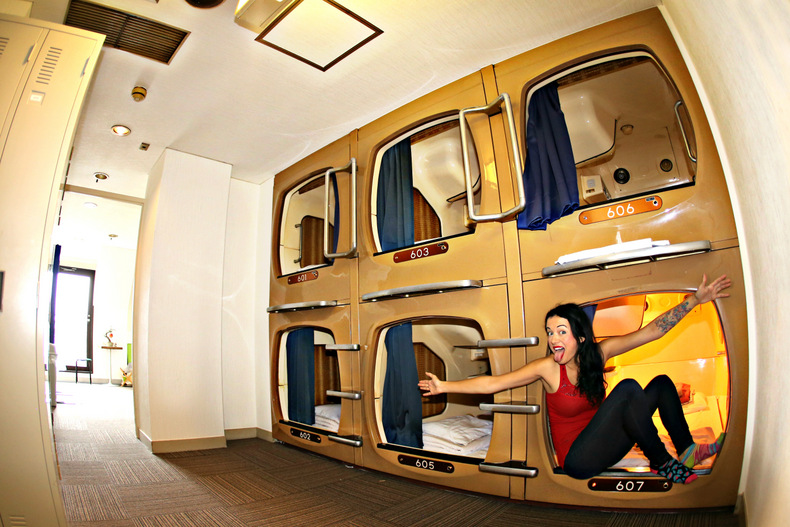 The floor that I stayed on was women only. There is a door to the entire floor that locks, only the women staying on the floor and female staff have the key. I felt very safe.
The first thing I did when arriving was take my shoes off, put them in the shoe locker and give the key to the front desk while they looked up my reservation. The front desk person only spoke Japanese. They have some employees who speak English and some who do not, after all, I was in Japan. The staff were generally kind and helpful, language permitting.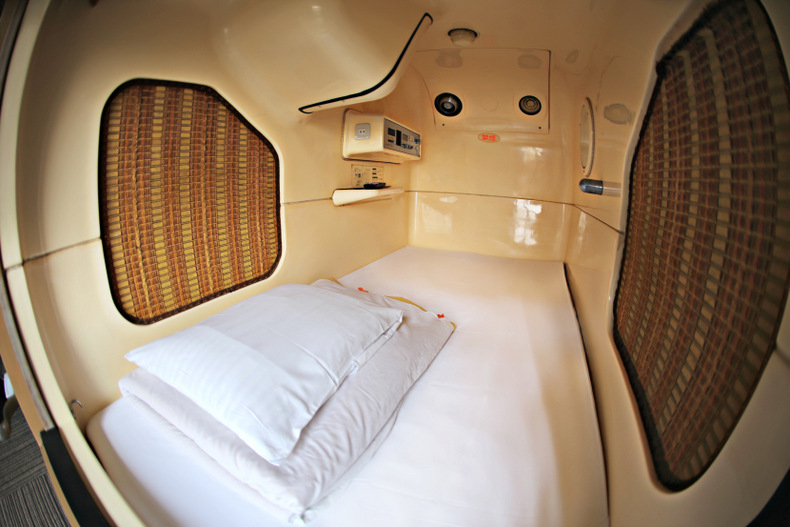 I was surprised that the capsule didn't look that small. It is a little over 6 feet long, 3 feet wide and 3 feet tall.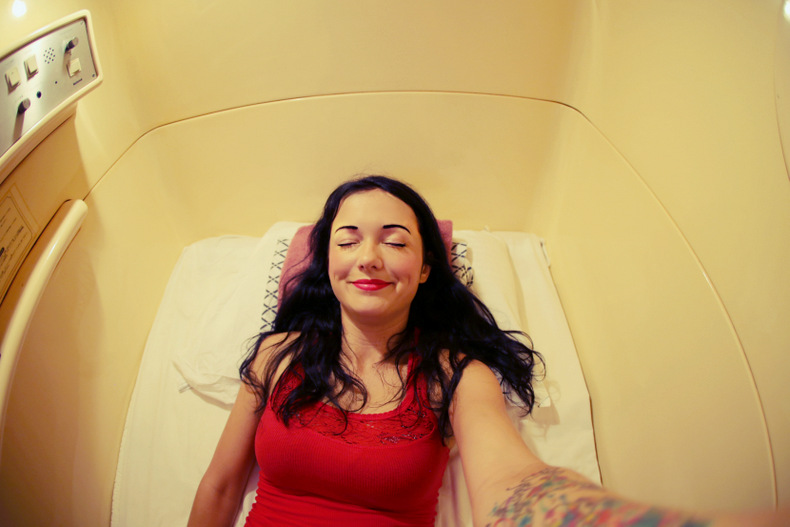 I am 5'2 so I felt like I had plenty of room. I didn't feel claustrophobic at all. I could easily change sleeping positions. The mattress was thin but comfortable.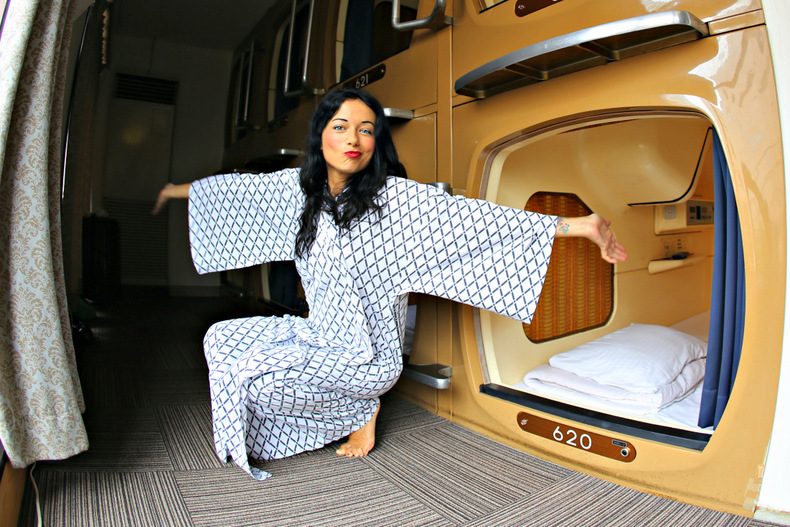 They give you a kimono to wear! I think it is meant to wear to their shared bath house and sauna but I wore it around for fun. Men and women do have separate bath houses and saunas.
There was a little living room, coffee vending machine(how Japan!) and balcony outside the locked door of the women's floor. This would be the perfect place to meet friends. They also have an awesome rooftop area where you can barbecue. For local attractions, there is Arca Kit, Tomozuna Stable, Tokyo Skytree Town, and heaps of tasty restaurants. Really you can take the train from Kinshicho Station to anywhere you want to go in Tokyo! I highly recommend doing a cooking class with Buddha Bellies Cooking School, I learned so much and had a blast!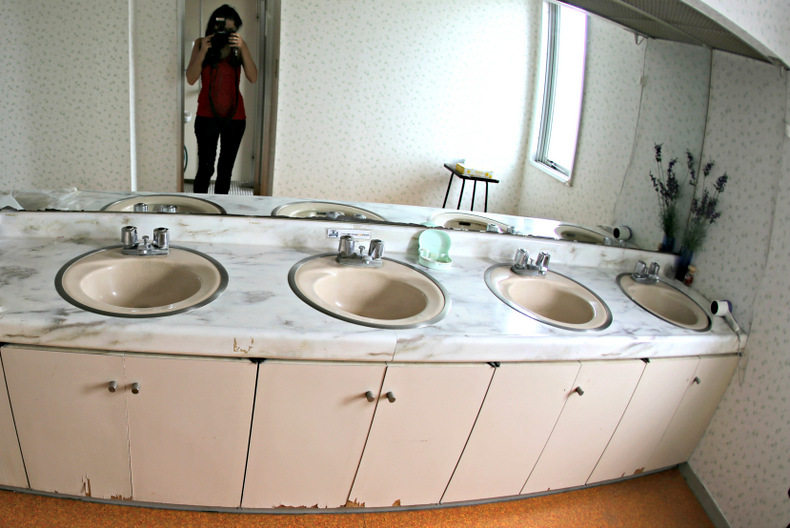 The bathrooms on my floor were clean but no frills. I was given a toothbrush, toothpaste and a towel. They had face towels, razors, shampoo and conditioner in the bath house. If you want to change privately, you could change in the bathroom stall. I had no problem changing in the sink area as it is only women on the entire floor.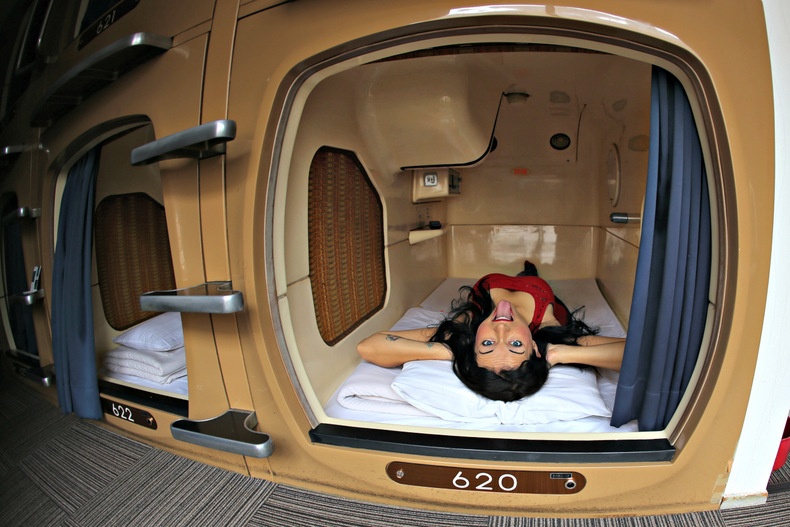 I seriously felt like I was in my own rocket ship! The whole thing is made of plastic with a retro control panel and everything. It didn't surprise me when I read that it is designed in the image of a jet's cockpit.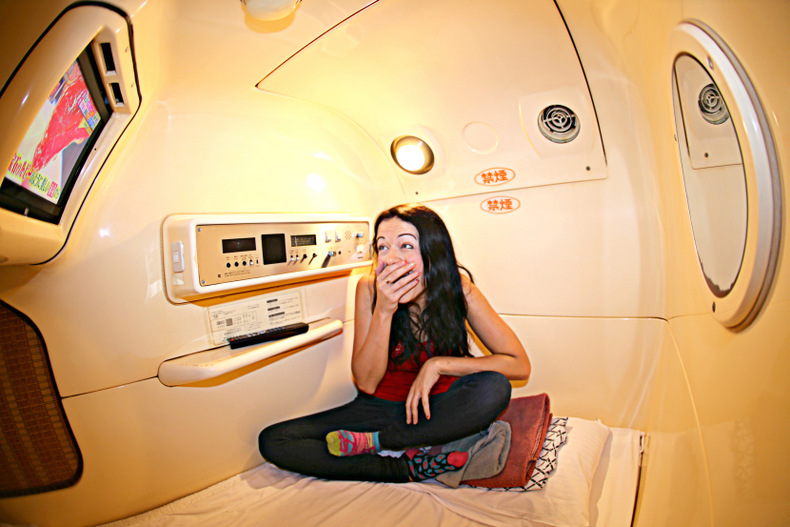 Japanese TV is amusing. I took these photos with my fish eye lens so it may look a little larger than it is. However I did not feel crammed. I could easy sit up and move around.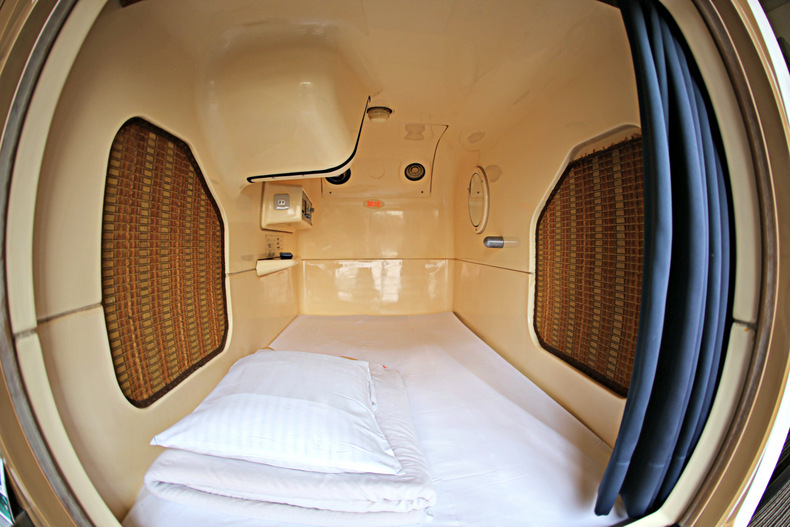 You obviously do not have doors and you can hear your neighbors. When I was there people were generally quiet and considerate. I didn't hear anyone talking to each other partially because you are in a capsule by yourself.  I do sleep with Skullcandy earplug headphones and a sleep mask. Not too much will bother me.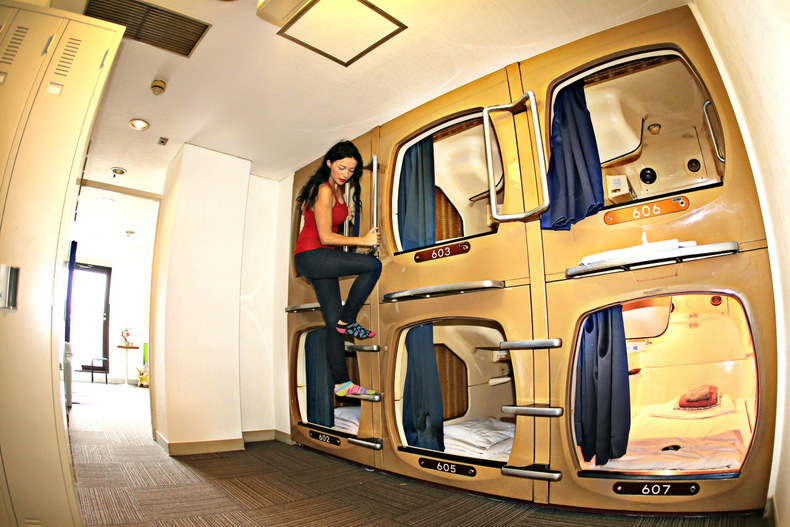 No matter how many days you are staying you must leave between 12:00pm-3:00pm so they can clean.
These are the lockers everyone gets a key to store their things for free in. If your luggage does not fit in the lockers they are happy to store it for you at the front desk. I left my ridiculously heavy backpack outside my capsule. If someone is motivated enough to lug that thing away, good riddance!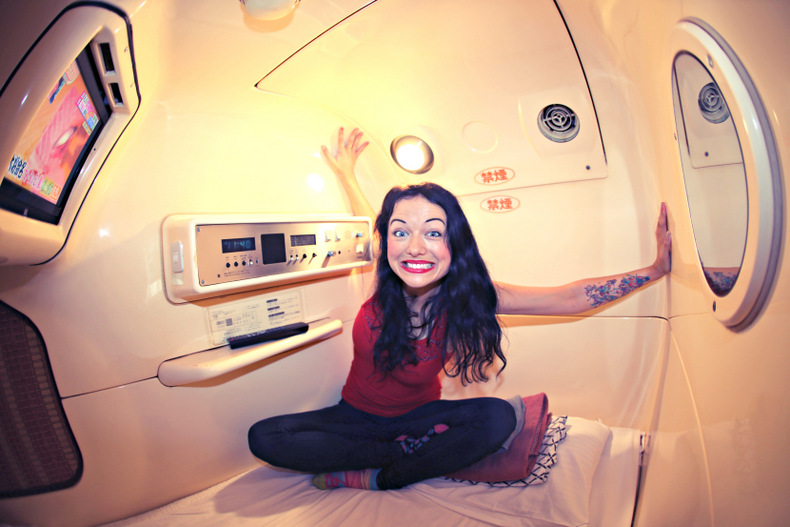 The wifi was very fast in my capsule so I spent some time on social media and watched a couple of movies.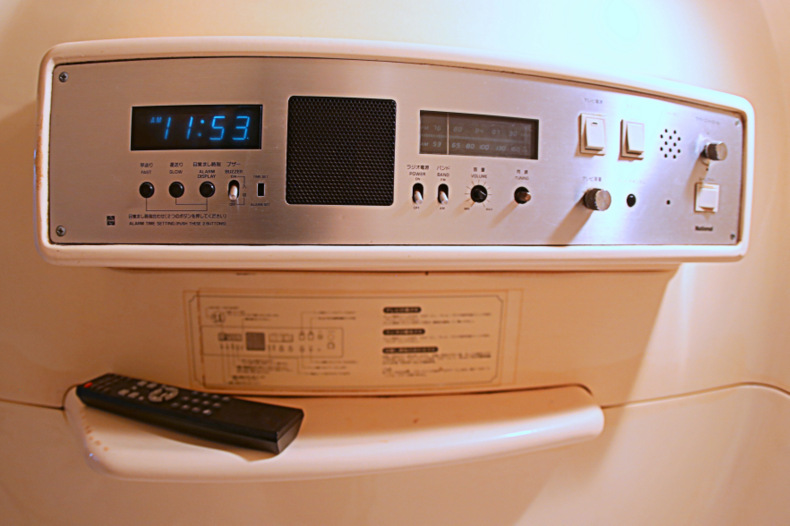 The control panel allowed you to set an alarm, listen to the radio and adjust the lights. There is also a small shelf for your phone, a coffee or whatever you like.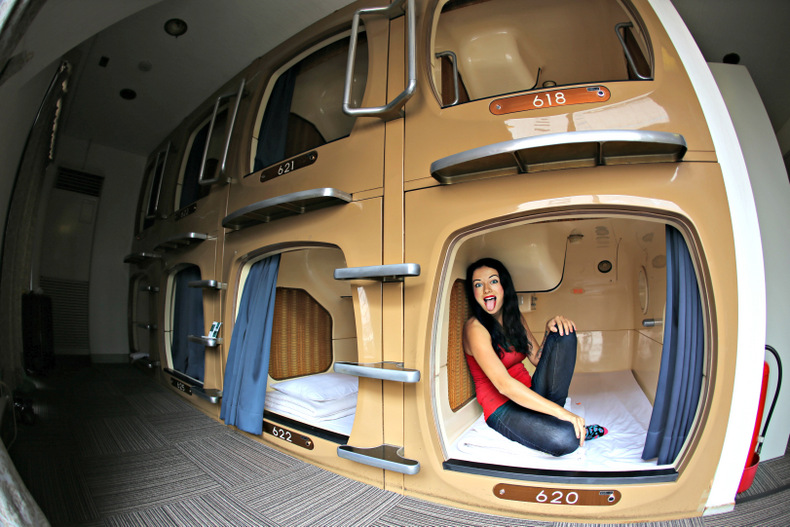 I know on some level it sounds fun but men and women may never sleep in the same capsule, or even the same floor.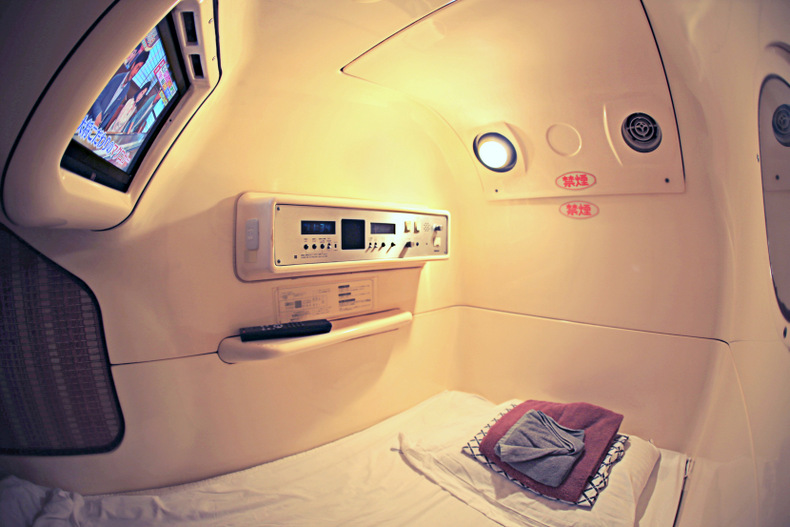 The mattress was not fancy, more of a thick soft sleeping pad. It was perfect for me.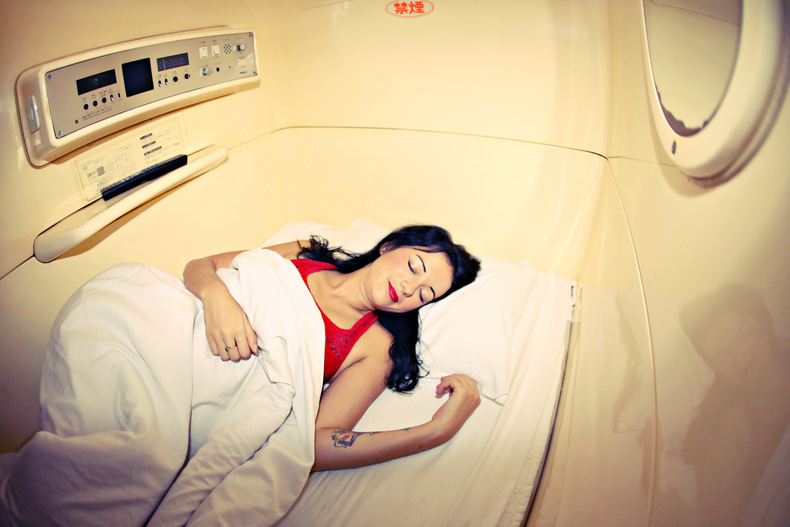 You choose whether to turn the lights on and off in your own capsule. You do have the dark curtain if you want to shut out the light from the room. At night they do turn off the lights.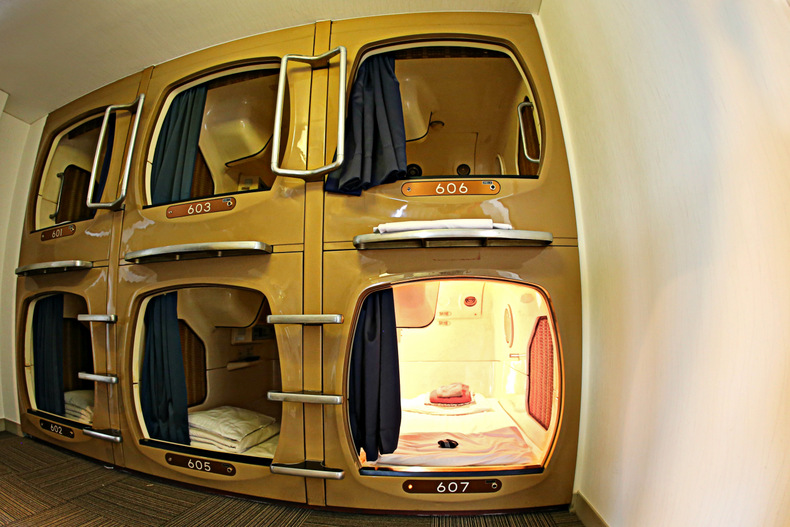 There is no curfew at this capsule hotel, you may come and go as you please.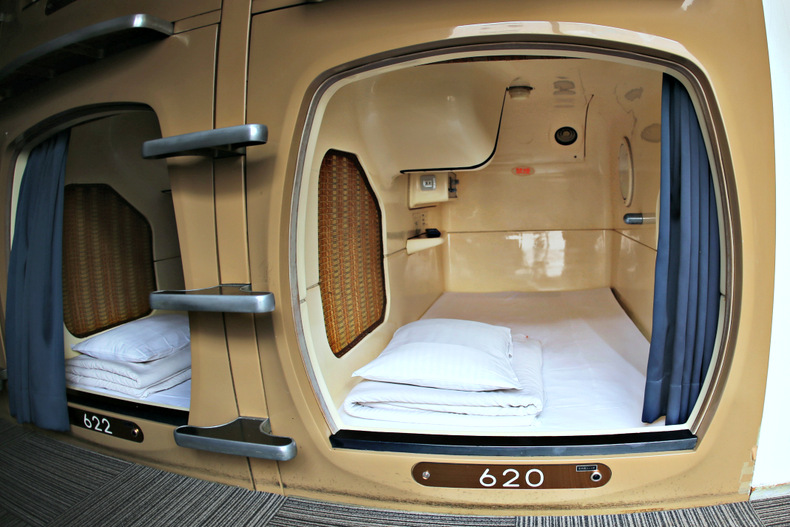 The capsules were made up nicely, the temperature was pleasant and it was extremely clean. All of the linens were freshly washed.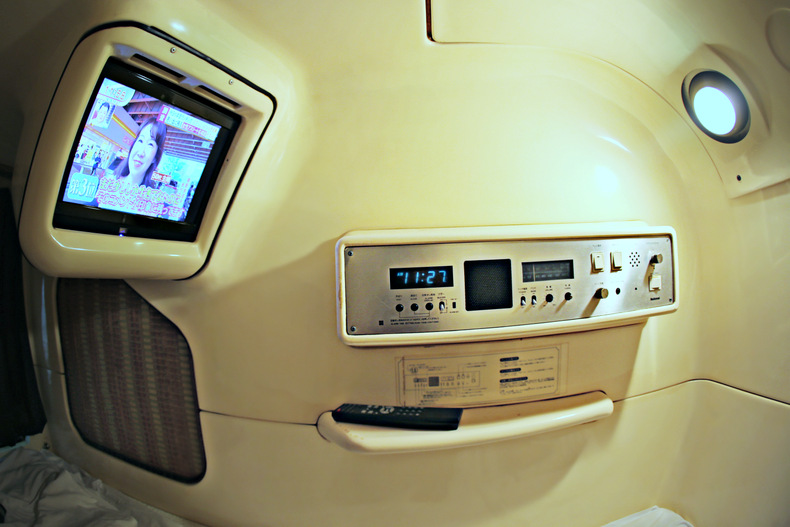 On the side of the control panel there is a power outlet! Thank goodness. I charged my computer, Kindle, iphone and camera batteries.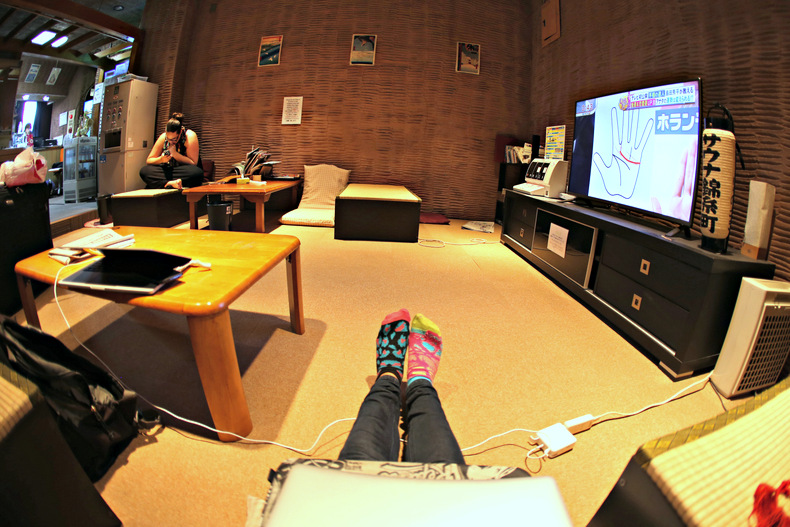 Honestly, I had so much fun in my capsule, you know-pretending that I was either going to the moon in a rocket or exploring the bottom of the sea in a submarine that I didn't spend much time in the common area. It seemed like a nice place to be if you were feeling social so you didn't bother anyone trying to rest in their capsule. I did meet a couple of other friendly solo female travelers.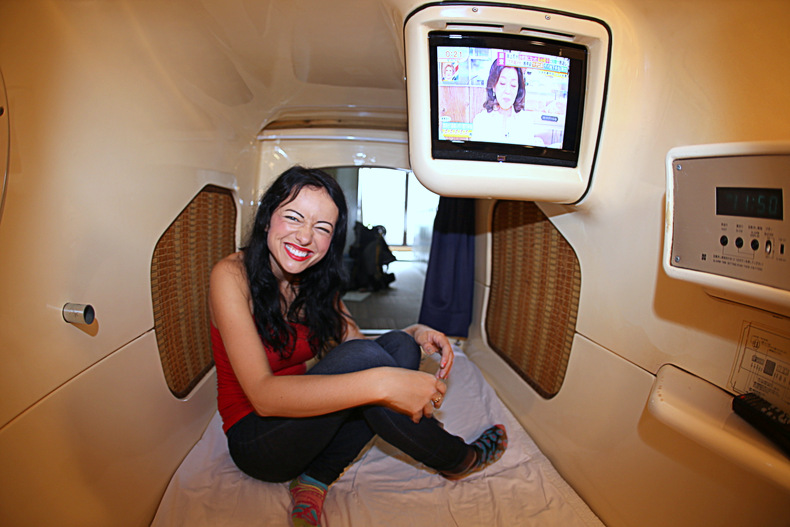 I had so much fun! Can you tell? I loved Capsule Inn Kinshicho! I feel that it is well worth the $25.00 I spent, I highly recommend experiencing this in your life at least once!
Directions: The JB Sobu line from Narita airport will take you directly there to Kinshicho Station for about $11.00, it takes about an hour and 15 minutes.
From Kinshicho Station:
Take the North Exit (the side with the large donut-like sculpture) and start heading left. After the second block, there will be a Burger King to your right—cross the street towards it. Walk past the Burger King. At the first crossroad, you'll see the hotel on the right side (next to the Italian bar Quintetto).
If you reserved in advance, they'll write your name on a sign by the door!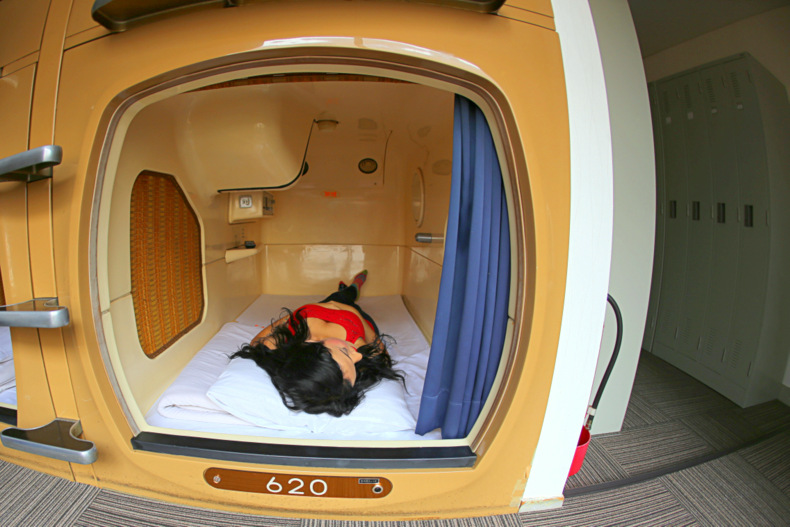 Please let me know if you have any questions!